Strategic Economics has extensive experience in real estate market and financial feasibility analysis, ranging from detailed evaluations of proposed development projects to planning-level analysis intended to base planning and policy studies in reality. This work provides our clients with the critical information they need to make decisions and advance development projects. Our work also informs cities' policy decisions to ensure that plans and zoning ordinances work with the market, not against it. Our developer solicitation work attracts highly qualified developers and ensures there is a good fit between their experience and the public's objectives for development.
---
Economic and Housing Opportunities Study for the Grand Boulevard
Client: Grand Boulevard Initiative
Location: El Camino Real San Mateo and Santa Clara Counties, CA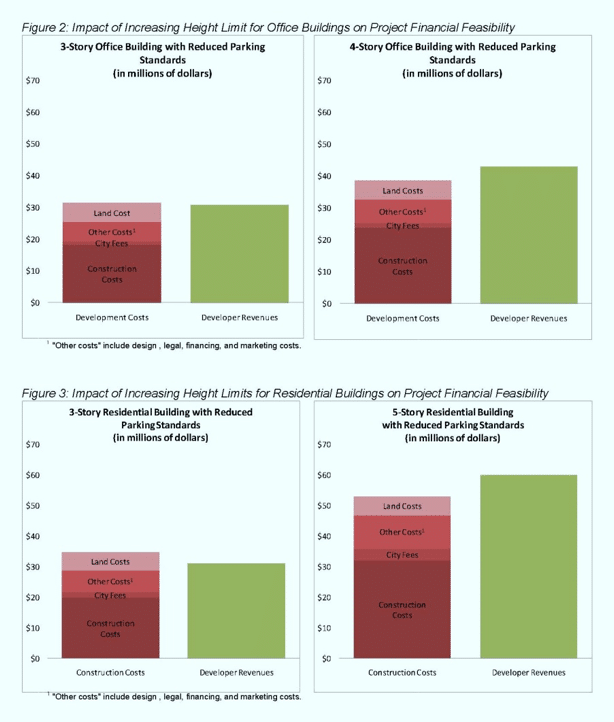 Strategic Economics was retained by the Grand Boulevard Initiative (GBI) to study the economic benefits of transforming El Camino Real, a 43-mile state highway stretching from the San Francisco Peninsula to the Santa Clara Valley, into a multi-modal, mixed-use boulevard.
In the first phase of the study, Strategic Economics demonstrated that focusing the region's future housing and employment growth on the corridor would provide substantial tax revenues to local governments, and help to achieve other economic development goals. Strategic Economics also identified some of the regulatory and economic barriers that needed to be addressed in order to successfully implement the Grand Boulevard vision. In the second phase of the study, Strategic Economics conducted further analysis to address the barriers to attracting development on El Camino Real, including an examination of the financial feasibility of infill development under different assumptions of density, height, parking, and other land use requirements. Strategic Economics' work revealed that in many cities, density and height restrictions were set too low to encourage infill development, especially on smaller parcels that are more difficult to develop.
Based on this work, Strategic Economics developed an "implementation toolkit" that provides cities with guidance on how to facilitate new development by calibrating land use regulations to market conditions, and establishing zoning incentives to encourage higher intensity development on challenging parcels.
---
Mountain View El Camino Real Precise Plan: Market Analysis and Community Benefits Strategy
Client: City of Mountain View, CA
Location: Mountain View, CA
Strategic Economics was retained by the City of Mountain View to provide economic analysis to support the creation of the El Camino Real Precise Plan, an area plan for a auto-oriented corridor in Mountain View. Strategic Economics completed a market analysis to determine future demand for new housing and commercial development on the corridor, and conducted a financial feasibility analysis to determine what densities and heights would be economically viable in the Plan Area. The analysis showed that buildings with higher densities of over four to six stories were generally more financially attractive than lower densities of three stories or less. Working closely with City staff, Strategic Economics formulated a strategy that would allow the City to receive additional public benefits in exchange for awarding bonus density to projects in key locations where increased heights and density were viable. In addition to establishing a new process for implementing public benefits, Strategic Economics also developed a funding and financing strategy for the proposed infrastructure improvements in the Plan Area. The El Camino Real Precise Plan was adopted by the Mountain View City Council and awarded the American Planning Association California Chapter's Award of Excellence for a Comprehensive Plan in a Small Jurisdiction in 2016.
---
Downtown Hawthorne Specific Plan
Client: City of Hawthorne
Location: Hawthorne, California
As part of a consultant team led by MIG, Strategic Economics worked for the City of Hawthorne to prepare the Downtown Hawthorne Specific Plan. Strategic Economics' primary role in this assignment was to conduct real estate market analyses.
To inform the Specific Plan, Strategic Economics conducted an in-depth market assessment, including an examination of Hawthorne's competitive context within the region; an analysis of demographic and employment trends; and, an evaluation of residential, retail office and hotel market conditions along the Hawthorne Boulevard corridor. Strategic Economics reviewed Hawthorne's historic strengths and assets; interviewed real estate developers, brokers and other local experts; and participated in meetings with community groups focused on economic development.
The resulting market study provided specific recommendations on the land uses and building types most likely to be successful in Downtown Hawthorne, including targeted uses for each of the key opportunity sites and subareas within the planning area. This study also provided insight into the tools, strategies and infrastructure improvements necessary to catalyze new development. Strategic Economics presented the findings to the Steering Committee and local stakeholders, and assisted with the creation of a financing and implementation strategy for the final plan.
---
Transit-Oriented Development Market Analysis
Client: Puget Sound Regional Council
Location: Seattle, WA
A recipient of a HUD Partnership for Sustainable Communities grant, the Puget Sound Regional Council (PSRC) retained Strategic Economics to conduct a regional market and affordable housing study as part of their Growing Transit Communities (GTC) program.  Together with a local economics firm, Strategic Economics conducted a comprehensive assessment of housing and commercial market conditions at the regional and local levels, with the goal of understanding the TOD readiness of potential corridors and station areas. In addition to evaluating indicators such as market conditions, demographic and employment trends, Strategic Economics created a geospatial market strength index: a quantitative and visual tool to assist the PSRC in identifying market potential throughout the region. This assessment also included extensive interviews with local market-rate and affordable housing developers to identify barriers and develop solutions to promote to TOD at a range of price points throughout the four-county region.
Additional phases of work included the creation of residential and commercial TOD demand forecasts through 2040; the development of a station area typology in collaboration with PSRC staff and Reconnecting America; and the identification of implementation actions and investments to coordinate and catalyze TOD at the station area and regional levels. Strategic Economics also completed a series of case studies of the strategies employed by regional organizations throughout the country to support the balanced growth of communities near transit, in order to better understand the structure, funding and implementation of these programs. As part of the GTC program, the TOD Market Analysis made the case for regional planning and equitable development around transit and assisted the PSRC in taking a leadership position in coordinating implementation efforts among a variety of public agencies and organizations.
---
Market and Feasibility Analyses